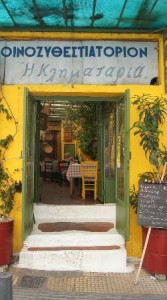 Here is a little story about Pericles and Maria. Pericles studied Physics at the University of Athens but his dream was to open a restaurant instead and try to combine his love of good food with his love of music.
Maria studied social psychology and also graduated from the University of Athens and worked as a teacher until 2004. Her passion though was cooking, especially the old traditional dishes that she grew up watching her grandmother and mother prepare who were born in Asia Minor. Her dream was to conduct research on the culinary traditions of the Greeks and open a restaurant where she could cook and offer her clients good food; the kind of food that she grew up with while preserving her culinary heritage.
These two people were bound to meet somehow, and fall in love and get married and…yes, you guessed it, open a restaurant together.  The restaurant  is the famous Klimataria restaurant where the Athens Food Tours Cooking Lessons take place.
Together they have created a wonderful space for eating, sharing, celebrating and enjoying life. Maria is a fantastic cook and has carefully studied her craft. She uses only the freshest and healthiest ingredients and every day she bakes fresh bread and makes a variety of homemade pies in addition to her other dishes.
Pericles manages the establishment and makes sure that the atmosphere is always inviting and authentic. The restaurant first opened in 1927 and Pericles has changed very little since then in the decoration and ambiance of the place. On weekends there is live traditional folk and Rebetiko music, thus finally realizing his dream.
When in Athens do as the Athenians and pay a visit to Maria and Pericles. You won't regret it. For more information on the Athens Food Tour and Cooking Lessons or just how to find the Klimataria Tavern go to:  http://www.athenswalkingtours.gr/Cooking-Lessons and http://www.athenswalkingtours.gr/Athens-Food-Tour
Kali Orexi.