Athens is a fast city with fast people that need fast food – and fast. But fast food in Athens doesn't necessarily mean greasy, salty, cholesterol ridden junk food. Fast food in Athens is very fresh, nutritious and most of the times healthy and best of all – it's cheap!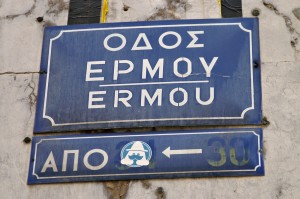 In winter you can find little metallic carts on central street corners roasting chestnuts and corn on the cob sprinkled with a little salt. It is a delicious and healthy snack on the go. Eating a handful of hot chestnuts on a bitter cold night in an ancient city makes me think of something straight out of a Charles Dickens novel for some reason, which is probably why I like it so much.
For something more exotic try a bit of orchid tea, better known as Salepi which is sold on Ermou st. and throughout the Monastiraki and Psyrri areas of Athens. This is a thick pearly white liquid served with a dash of cinnamon. It is quite tasty as well as good for you and is a perfect for warming up or to give that extra boost of energy at the start or middle of the day.
The most famous of all street foods I would say are the sesame rings. Those of you who are not familiar with them sesame rings, which are very much like bagels but thinner, are crispy, golden bread rings covered in zillions of toasted sesame baked fresh every morning. they are very common throughout the Balkan countries and Turkey and have been a staple of the Greek diet for centuries originating from Byzantium.  They can be found everywhere 24/7 12 months of the year. A quick coffee and a sesame roll, or koulouri as the Greeks call it, is the signature breakfast of most busy Athenians on their way to work. It is also a great snack after a night of clubbing.
At the "Koulouri Corner", some of which resemble bakeries on wheels, you can often find an assortment of other delicious snacks, some sweet and some savory. These include sugar doughnuts, olive and cheese rolls and raisin bread. Most vendors even sell wrapped cheese wedges so that you can accompany your carbohydrates with a little protein. Add an orange from a nearby fruit stand and you have a complete and highly nutritious breakfast or lunch from the three food groups!
There is also this very old bakery near the first Parliament building of Athens that has great cheese pies. They are not made with phyllo dough but a deliciously crusty, buttery but not greasy pie dough. Inside you will find a warm, gooey and cheesy feta center. They are small and they hit the spot for a quick hunger fix.
Fresh fruit vendors situated near the central metro and train stations always seems to have the brightest most succulent fruit. I can rarely resist and usually end up buying a juicy apple or a couple of strawberries or cherries, whatever is in season, for my train ride home.
And then there is souvlaki. The ultimate fast food fix in Greece. I am on a self-proclaimed mission to find the best souvlaki in Athens – and I will tell you right now that it is no easy task simple because there are just so many souvlaki joints in the city. But I'm not complaining. There is the famous gyro which is a mixture of lamb, beef and pork meat roasted slowly on a spit and then shaved ever so thin on pieces of warm aromatic pita bread which has been previously sprinkled with a mixture of olive oil, sea salt, and oregano. Or you can go for the regular pork souvlaki (some places also have chicken) or beef burger or kebab.
I think my favorite place so far is in a tiny little square in downtown Athens with a tiny little Byzantine church in the middle that is very old and historic – like most of them are. My souvlaki guy has the smallest little shop, no bigger than a closet really but he serves the best, most delicious souvlaki you can imagine. His secret? Excellent ingredients, super fresh and bright red juicy tomatoes, homemade tzatziki which is heavy on the garlic but oh so delicious, and his own special sauce which he makes himself and is a little on the spicy side but compliments the dish wonderfully.Your souvlaki or ground beef burger (my choice) is served with pita bread and fresh fried real potatoes – not the frozen kind. The servings are huge, even for someone with a hearty appetite and the prices are very affordable. He is open until 5 pm and there is a line from the 12 pm onwards. His hands never stop working and he always greets you with a smile.
Now for dessert, you have a number of options to choose from! You can either go for some fresh fruit or some soft ice-cream or frozen  Greek yogurt which is currently really big in Athens. Another very healthy choice is pasteli which is made from roasted sesame, honey and some have pistachio or almonds added in.
So don't worry 'bout a thing. Many things can happen to you while you are in Athens except one – you won't go hungry! Anywhere, anytime, day or night, you will always find something good AND healthy to nosh on!