A visit to Athens cannot be complete without a visit to the Acropolis and its famous Parthenon. The "sacred rock" is the landmark of the city and one of the sights in the world that everybody should see once in his life. A guided tour with a licensed, professional, knowledgeable, "Athens Walking Tours" guide can make the experience memorable.
But Athens is not only the Acropolis. Athens is a vivid, colourful, playful modern city where the glory of the past meets the modern way of life which has its own dynamic. One of these areas is Monastiraki with its unique worthwhile visiting Avissinias square.
Monastiraki area spreads out at the foot of the Acropolis to the North of the Hephaestus Temple in the Ancient Agora and south of Ermou street; it's a  charming alloy of colors, smells, tastes and senses.
Greeks also like to call the area Yousouroum which is named after Bohor Yousouroum, a lovable Jew, tailor who opened his second-hand clothes shop there in  1863 and at the same time many co-religionists of him imitated him by opening antiquaries.
Until today the area has preserved the same character and beside the shops, there is a flea market where street vendors sell anything you can imagine. Antiques, furniture, pieces of vinyl, post stamps and coins from all over the world, china, vintage clothes, handmade embroidered curtains or tablecloths and off the beaten track souvenirs that will impress you and your friends!
The area is full of restaurants and taverns which offer traditional dishes. Don't miss to enjoy a Greek beer or a glass of wine or a shot of tsipouro, raki or ouzo accompanied by typical Greek mezes. A baklava or a halva are ideal sweet conclusions for an enjoyable meal after your stroll. Don't hesitate to ask us for tips or let us book your lunch for you, or your dinner, at a carefully selected for its quality service partner or even get a complete taste of Greece by joining our Food Tour.
Attractive shops with clever and cute souvenir will make your visit to the area even more appealing. Smart gift ideas for your family or friends will make your shopping interesting and joyful!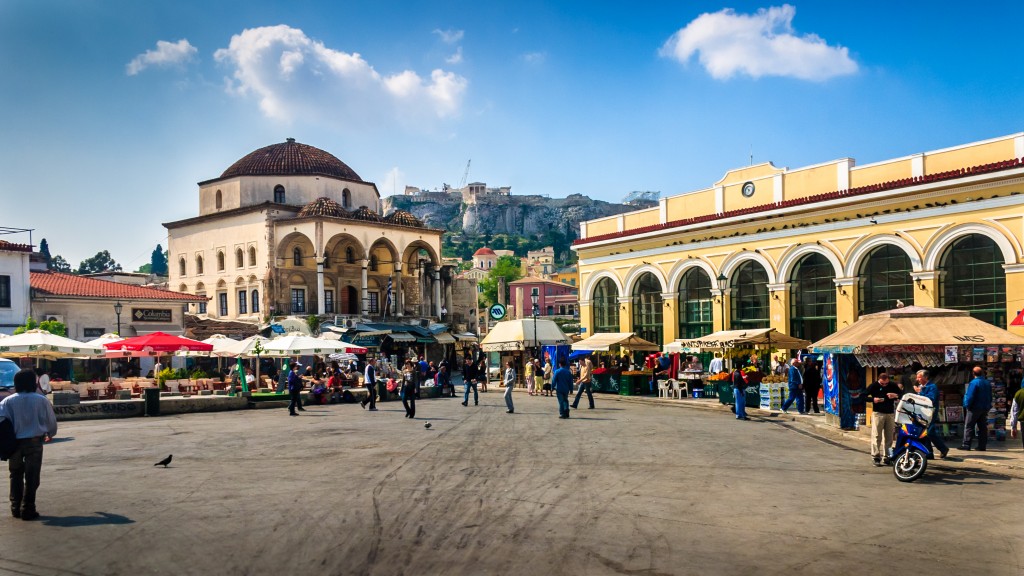 But don't let yourself get dizzy with all these tastes and colors and forget to visit the interesting sights of the area such as The Ancient Agora, the Kerameikos cemetery, Hadrian's library; you may visit them by using your Acropolis tickets which are valid for 4 days!