The connection Piraeus port to Athens centre has now, become even more easy!
There is a brand new public bus line available, designed to serve cruise – ship passengers who wish to travel to Athens centre: The Express line X80!
Use this bus  for your transportation to the city center and join the Athens Walking tours to enjoy an in depth guided tour at all major attractions and sights  of Athens by the best guides in town!
The bus terminal for this line, is located walking distance (approx. 3 min. walk) from Cruise-ship Terminal B. The next stop, is located 2 min. walk outside the Cruise-ship Terminal A.
X80 covers a circular ride of total 60min. (30min. each way) with, in total, 15 stops at the main attractions of Piraeus and Athens, among which, the Piraeus Municipal Theatres, the Archaeological Museum of Piraeus,  the Planetarium, the National Museum of Modern Art, the Acropolis Museum, Syntagma Square, various metro stations with connections to central locations in Athens, as well as to Athens International Airport.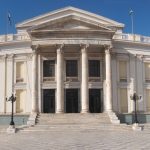 The line operates daily, every 30 min., with the first departure at 7am.
The cost of the daily (24 hours) ticket for this bus is 4 Euro and covers unlimited travels. You can get the ticket from the bus drivers, provided that you hold the exact amount for payment, or by the ticket selling kiosks, the automatic ticket machines and the mobile ticketing applications.
For more information, as well as for the 3-day tourist ticket prices, please click here.
Of course, the Athens Walking tours could not but be a part of the route! Those, who get off at the "Acropolis" station,  by Hadrian's Arch, will find themselves only a few meters away from our, carefully chosen, meeting point for wonderful tours such as "Just the Acropolis", "Just the Acropolis and the New Acropolis museum" or "the Acropolis, the Ancient Agora and the Attalos Museum visit"!
Those, who get off at  Syntagma will find themselves by the "Metro Station Syntagma", which  is the starting point for all our historical City Walking tours!  
(Also read: Public Transportation in Athens)