Traveling alone is a luxury for many people so if you have the chance just grab it and enjoy it! Spoil yourself as much as you want and do the things that will offer you more joy without having to think  someone else's wishes or demands.
There are endless advantages to traveling without anyone else in town. Choose your destination, set your budget and here you are, ready to fly to freedom!
Αthens and Greece in general is an ideal destination for solo travellers. Safe country, friendly and smiling people, nice weather almost all over the year. Athens is vibrant city with countless things to see and spend your time nicely.. Here under you may find some interesting suggestions but set your imagination free and it is sure that you will find many many more!
#1 – Get a convenient accommodation
Athens disposes a reliable and user friendly public transportation and the metro is the most convenient mean of all. Make sure that your hotel or your apartment will be in or close to the city center and walking distance from a metro station. This way you will be able to visit many places on foot or by using the metro. Syntagma, Monastiraki, Plaka, Thission, Koukaki , Pangrati, Ambelokipoi , Kolonaki are the most suitable areas for you and there are many hotels, hostels and apartments which are ready to host your adventurous travelling mood.
#2 – Spoil yourself with great food, you deserve it!
Holidays is not time for diet. When you travel you should offer delight to all your senses and tasting is one of the most important. Athens has a great gastronomical culture and great food. Have  dinner at a local traditional tavern, taste the street food (it is absolutely safe), ask the locals or watch where they go, avoid the very touristic areas or join our wonderful "Athens Food Tour". You will get to know everything about the Greek food and you will meet interesting people in the group from all over the world.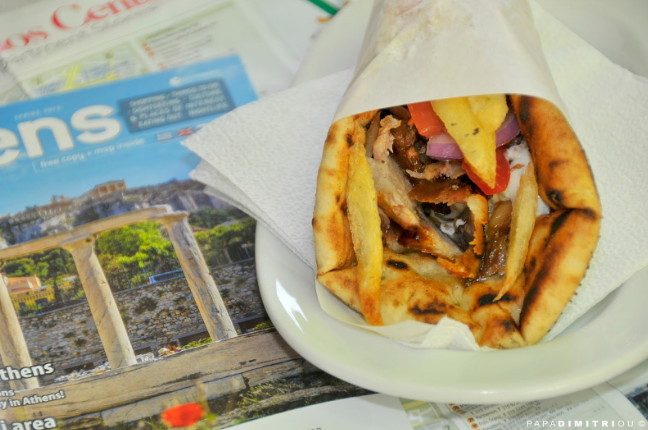 #3 – Keep spoiling yourself with shopping!
Yes, you are alone and you can go anywhere you want without taking anyone's opinion! If you are a woman you will appreciate this more…. Athens is a metropolis and you can find anything you want. From little handmade souvenirs, fabulous jewelry, pretty and cheap clothes  or  clothes from famous brands and designers. Shopping malls, markets and flea markets are at your disposal from Monday to Saturday. In order not to miss anything, advise our fully updated Athens Guide.
#4 – Meet the locals and blend into the crowds
Maybe talking to strangers is  not one of your favourite habits but if you are travelling alone you will find it very interesting and it will be more easy  and rewarding than you have imagined. Ask for directions, ask for the best places to visit, state your name and where you come from and it is sure that you will get some interesting information. Greeks are friendly, especially younger ones who speak  good English. Try to learn a few words from our language too. It will be highly appreciated by the locals!
#5 – Take a class in something you like or something you haven't done before
Find something you love to do at home and try it out in Athens. Instead of missing your yoga session or pottery class, seek out a substitute and give it a shot. Our "Athens Cooking Lesson and Dinner" is a great chance to have a wonderful evening. You will meet people from all over the world, for sure solo travellers too, you will learn how to cook many typical  Greek dishes  and you will enjoy the delicious fruits of your efforts at a traditional, picturesque restaurant in the heart of the city.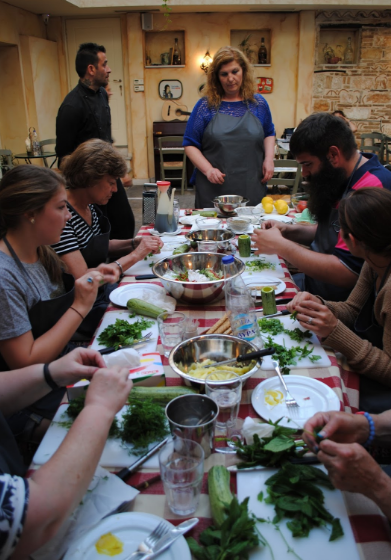 #6 – Enjoy the history and the sights
Athens is one of the most historical cities in the world. The visit to the  Acropolis, the landmark and  crown of the city is a" must." Visiting the sights with a knowledgeable, licensed guide of the Athens Walking tours  is a unique travelling experience. Our Small Group historical tours offer guaranteed, personalized service and you also have the chance to meet with travellers from all over the world.
#7 – Did you spoil yourself enough? Never is enough… What about a Hammam?
Athens is balancing between East and West. A modern western metropolis with an eastern background and heritage. This is quite an interesting and charming mixture which includes the Hammams too. Enjoy a Hammam (hot  bath) and a relaxing massage which will rejuvenate you and will make you feel that you walk on the clouds. Search in Thission and Monastiraki area for the best of them.
#8 – Attend a theater performance
Greece is the place where theater was born. It's a pity to visit the city and not  offer  yourself the chance to watch an original Greek drama. The ideal would be to visit the Epidaurus theater or the Herodion at the foot of the Acropolis where the atmosphere is unique. Check the programme of the "Athens and Epidaurus Festival" and find the most attractive performances for you.
#9 – Enjoy the sea and the sun!
You are in Greece after all, with 13,676 km (8,498 miles)of coastline you will find a beach suitable for you! Although Athens is famous for sightseeing it has many beautiful beaches too. Athens beaches are spread all along the southern and the north eastern side of the Attica peninsula. All the coastline from Glyfada to Cape Sounion have nice organized beaches as well as secluded coves to enjoy a day in  the sun. There are many islands also near by. Don't miss the chance to visit three of them in just one day with our One Day Cruise!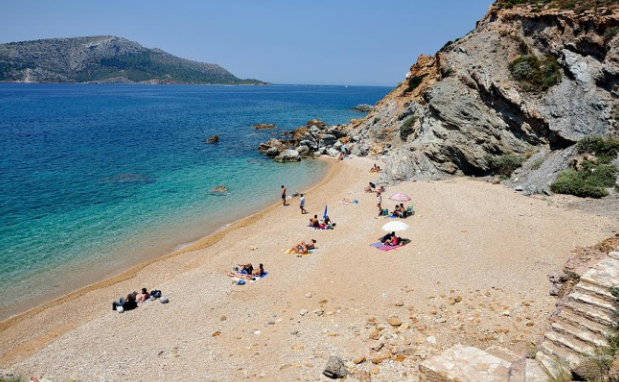 #10 – Get to know yourself
Traveling allows you not only  to discover a destination, but travelling alone allows you to discover yourself too. On a solo trip, you leave behind your beloved ones, your home the feeling of comfort and safety that it provides you. You may find out that desires, wishes and tastes may be different than what you had in mind. Do yourself a favor and explore them. As the famous poet Constantine P. Cavafy in his poem Ithaka wrote: "As you set out for Ithaka hope the voyage is long one, full of adventure, full of discovery"…. It's not the destination that matters but the experiences you will gain during the journey….