I really admire women who are determined, women who have a purpose – even if it is to find the perfect roast lamb. The woman I am writing about was on a mission and she came to Greece to document the Four Seasons of Greece and to produce an educational, entertaining travel and food documentary series that will showcase Greek Gastronomy. The series will be aired later this year in the U.K.
This woman's project is indeed ambitious who, along with her crew, plans to explore the culinary habits and traditions of  the Cycladic islands, the Northern Aegean,  the Saronic islands,  the Sporades, the  Dodecanese, and the Ionian Islands, as well as the island of Crete. But first there is Athens, where a smart woman knows her travels should begin.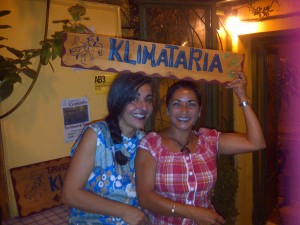 Meet Christina Bridge (on the right), a celebrity chef, sailor, travel writer and photographer who was born in London to a Pakistani father and Spanish mother; quite an interesting, exotic and worldly background from the get go. And she came to Athens in search of the best roast lamb, and she found it at Klimataria restaurant, where the Athens Walking Tours conduct their cooking lessons with Maria. Maria was more than happy to share with Christina, and soon with millions of viewers, her fail proof method of roasting the perfect Sunday dinner lamb.
What, you may ask, are the characteristics of the perfect roasted lamb. Well from what I have learned over the years, the most important thing to know about roasted lamb is how to roast it properly so that it has a crunchy crust on the outside but inside the meat is juicy and melt-in-your-mouth tender. The second most important thing to know is using the right aromatic herbs and spices and in the correct amount and plenty of garlic. Actually there is another secret that my mother taught me and is to roast the garlic in its skin. It adds a delicious nutty flavor to the roast and cooks perfectly within its skin making it absolutely wonderful. Try spreading the roasted garlic on a piece of home baked, just out of the oven piece of bread and add a sprinkle of really good quality olive oil on top. Oh, it's so divine!
Hope I've got the juices going! It's time to head for Athens and definitely a visit to Klimataria restaurant located close to Plateia Theatrou, or Theatre Square (it is where the National Theatre of Greece is located). For more information just contact us and we'll be more than happy to point you in the right direction.
Kali Orexi!