We can all agree that 2020 and 2021, at least up to now, have been bizarre years, and yes, that is perhaps a very kind way to express what is lately happening in our lives.  Bizarre, challenging, weird, crazy, and for some, maybe even funny.  I think it is time to 'fight' bizarreness with some more bizarreness, just for the sake of it.  After all, life is funny, or somewhat funny, and many cynical philosophers would agree.
By Sophia Dritsa
1. Greece is not the name of the country, that is what foreigners call it from 'Graecia', its Latin origin.  
The country is formally called 'Hellàs' in Greek, or more simply, 'Hellàda'. There are various stories as to the origin of the name. My favorite version is that the name derives from the conjunction of the ancient root sel (light) and the word laas (stone). So Hellas means a stone reflecting light (sounds kind of cool, doesn't it?).
2. Athens, the capital of Greece, took its name from Goddess Athéna.
There was apparently a contest between Athéna and Poseidon, the sea god, about who would name the city, and Athena won because she offered Athenians a great gift, the olive tree. (Thank God, because otherwise, we would call the capital 'Poseidonia').  For more information on the subject, you can always join one of our Acropolis Tours when it is safe to travel again - hopefully very soon.
  
3. With a history of more than 3,000 years, Athens, is also the oldest inhabited city in Europe.
We also have a joke when we want to make fun of somebody's old age, we say that she/he is older than the Acropolis (mean, I know, but some of us still laugh about it).
4. Greeks love to shop for fruits and vegetables in the Laiki, rather than in the supermarket.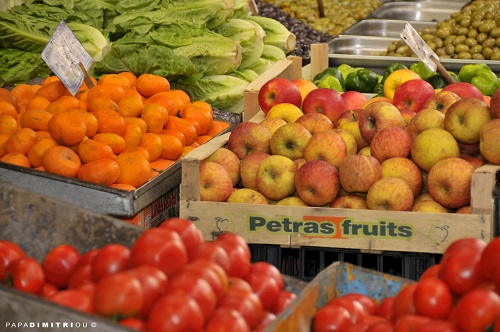 The concept of an open farmers' market or laiki as we call it in Greek, is much more appealing in a country that has more than 250 days of sunshine. By joining our Athens Food tour you will discover where Athenians shop and what they eat.
5. Greeks love to dance.
There are more than 10.000 traditional Greek dances registered. Each island, city, town sometimes has its own regional dance with different steps. (Opa-opa!)
6.The island of Santorini has the only caldera in the world that is actually inhabited.
Not only that, but the volcano is active. The General Secretariat for Civil Protection has set up a special emergency plan in case of a volcanic eruption. (Wow, these Santorinians are brave folks, aren't they?)
7. Greece is home to 6.000 islands and islets, of which less than 250 are inhabited.
Usually, visitors prefer the well-known islands of Mykonos, Santorini, Zakynthos, Corfu, or Crete but there are many more beautiful islands worthy of visiting, like for instance Ithaca and Skiathos, Lefkada, Anafi and Sikinos, Folegandros, Alonissos, Karpathos, Nisyros, and many more.  There are even small islands for sale. (Care to buy your own secluded haven, anyone?)
8. We are closed on Sundays.  
Sunday is supposed to be the day that we worship God, by going to mass. That is why even gas stations and supermarkets are closed on Sundays.  There are some convenience stores that are still open, but most shops are closed.
9. Greeks believe in the evil eye, known as "mati" (eye) in Greek, which is bad luck thought to be transmitted by a malicious glare.
Since ancient times, many people wear jewelry representing the evil eye around their neck, or their wrist, in order to cast off its influence. Moreover, the color blue that decorates the roofs of most Cycladic houses serves the exact purpose of warding off the evil eye and evil in general.
10. In ancient Greece, beauty standards were slightly different than today.
Back then, having a unibrow was considered a sign of both intelligence and beauty. Women who did not have one would draw it on purpose with charcoal. (What can you say? There is no accounting for taste, right?)
Now that you know all that fascinating but quite weird stuff about Greece, how are you feeling? Our world is a remarkable place, isn't it? A little weirdness is inevitable and even enjoyable. It is 2021, let us share our bizarreness!