Greece is not only about the long history, the sunshine, the beautiful islands, the spectacular beaches; it is also about the great food.  The Greek cuisine is very rich in variety and primary nutrient content (you've heard about the Mediterranean diet, right?).  Here are some of the foods you should definitely try when you come to Greece, in order to get the authentic Greek experience.  The order is completely random since they are all absolutely delicious.
1. Horiatiki salad with feta cheese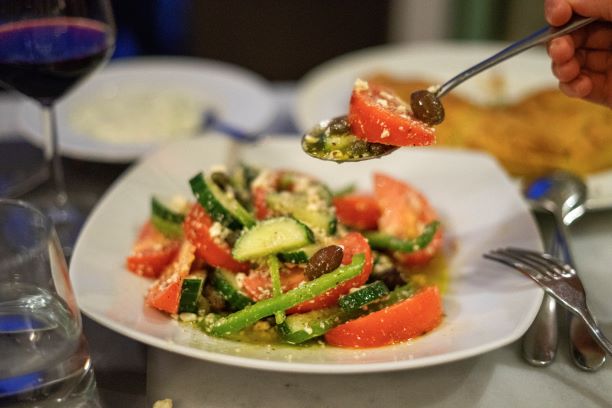 Imagine ripe (but not too ripe) tomatoes, juicy olives, feta cheese, freshly chopped red onion, and capers, sprinkled with oregano, olive oil, and accompanied by grilled bread. I am talking about the ultimate combination; nutritious, tasty, wonderful.  Great as a dish of its own, or complimenting other main dishes. 

2. Pies: Savoury and sweet (Spanakópita or Tirópita & Bougátsa)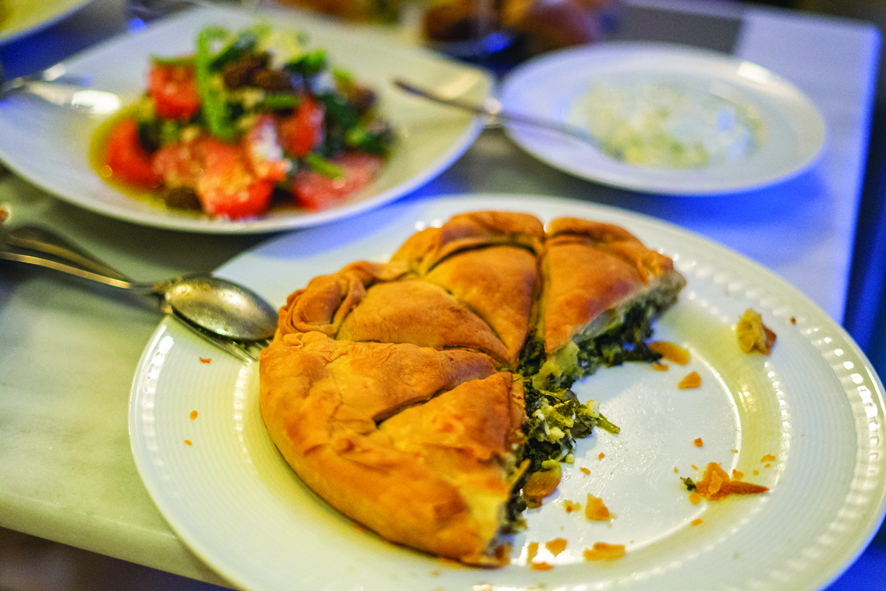 Pie with layers of phyllo dough stuffed with spinach, feta cheese, or any type of cheese, baked in the oven.  Great as a breakfast or a snack.  Bougatsa is a sweet pie, stuffed with buttery custard cream and sprinkled with cinnamon.  Best eaten warm out of the oven.

3. Moussakás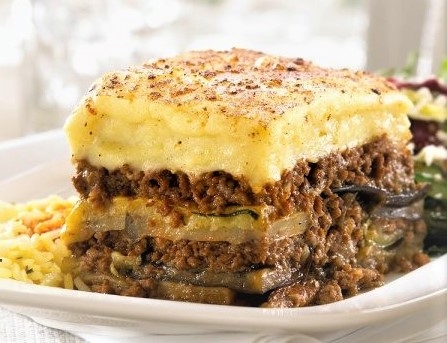 A very popular and traditional dish with layers of potato and eggplant at the bottom, cooked minced meat (beef or lamb) in the middle, and béchamel cream on top.  This delicious compilation is cooked in the oven, and the result is out of this world. Try it with a slice of feta cheese.

4. Gemistá
They are usually made with tomatoes, but you will also find them with zucchini, peppers, and eggplants.  We cut the upper part of the vegetable as if it is a vessel with a lid, and we stuff it with a cooked mixture of rice, herbs, tomato sauce, onion, and olive oil (some recipes have also pine nuts and a bit of minced meat).  It is then cooked in the oven.  The result is amazing and very healthy and nutritious.  Best served with feta cheese (what did you expect?) No, seriously, the rich, tangy, salty taste of feta accompanies perfectly most Greek dishes.

5. Strapatsáda or Kayanás
Imagine fresh eggs, beaten as if you would make an omelet, poured in the pan with some butter, but afterward (surprise-surprise) chopped tomatoes and feta cheese are added to the pan (feta is usually added just before you turn off the heat).  Slightly cooked (the result is supposed to be creamy, not dry) and seasoned with oregano or thyme.  The result is wonderful, light, and tasty.  
6. Saganáki
Deep-fried cheese, need I say more? (Could be feta, gruyere, or some other cheese that melts). On the outside, it is succulently crunchy, while on the inside you find the beautifully melted cheese.  It is served warm as a starter, and most people like to sprinkle it with a little bit of lemon juice.

7. Octopus and calamári
There are countless super tasty recipes in the Greek repertoire for seafood and fish, but especially octopus and calamari (squid) are definitely our cuisine's favorites. Grilled, cooked, boiled, with fava, rice, or on their own, be sure to taste them.  Best enjoyed with ouzo or white wine!

8. Souvláki or gyros with tzatziki
It is the ultimate Greek street food.  Souvlaki is either a skewer with cubes of pork or chicken, or served wrapped on pita bread with gyros, tomato, and tzatziki (yogurt sauce with cucumber and garlic, delicious).  If you ask me, it is better to try the second option, for the authentic experience. 

9. Loukoumádes
Ok, let's jump to the sweet stuff.  Loukoumádes are small round balls of dough, deep-fried and served traditionally with honey and cinnamon.  (Greek honey is an experience of its own).  Nowadays there are modern options with hazelnut spread or ice cream, but I recommend the traditional choice; the loukoumas with honey and cinnamon sprinkle is the ultimate combination.

10. Spoon sweets
Imagine just about anything, from fruits (cherries, sour cherries, quinces, grapes, figs, watermelons, oranges, lemons), vegetables (carrots, small tomatoes), flowers (rose petals is my favorite), but also nuts (pistachios, walnuts, chestnuts), and legumes (I have tasted spoon sweet made of butter beans, and it was great), which are made into preserves but are very different from jams.  Spoon sweets are thick in texture but in terms of appearance, their syrup is more transparent than jams.  They are served as a treat in many homes, and you will get them as complimentary dessert in taverns, usually combined with creamy yogurt; it tastes like heaven.

I will give you one more dish that you will probably not encounter in most lists with the 10 or 20 best foods to try in Greece, but it is very tasty and a favorite Sunday meal for many Greek families. It is the notorious 'kotopoulo sto fourno me patates' (chicken in the oven with potatoes). The chicken (usually whole) is covered with a mixture of olive oil, honey mustard, juice of one orange and one lemon, salt and pepper, and is put in a pan at the center of a little sea of medium potato chunks, and sprinkled with olive oil, and a bit of dried oregano. It is cooked in the oven for 1,5 to 2 hours, and the result is absolutely amazing and mouth-watering.  Combine it with horiatiki, bread, and cold beer, and you will be in heaven.
For a complete combination of Greek delicacies, try our excellently rated
food tour
, and get a little bit of Greece on your plate.  If you like eating your own creations, then you have to try our
cooking tour
, and cook like a true Greek.