Let us wonder for a moment what is really a company made of. Is it a brand name? Is it its products, or its services? Is it its premises? Or is it its business philosophy?  Of course, a company consists of all these and many more. But above all, a company is its people. The original meaning of the word 'company' speaks for itself: The condition of being with a person or other people in order to provide and receive togetherness, friendship, union. The people who day after day put their best skills, talents, ethics, integrity, commitment, and passion into work in order to make a change in the world. To make the lives of other people better somehow. To give back to the community. To create something worthwhile. In this sense, Athens Walking Tours is people who share with other people from all over the world, cultural knowledge, enjoyment, and above all, good memories.
This year we received for our work, our 9th, yet most important, Traveler's Choice award by Tripadvisor. This challenging year, Athens Walking Tours proved that at the end of the day, it is the people behind the brand name that will make the difference. Within a turbulent, still unstable situation due to the pandemic, where everything was uncertain and perhaps precarious, we managed to delight our guests and keep them satisfied. They, in their turn, wrote amazing reviews, touching comments, and 5-star recommendations that gave us this very important and rewarding award. We managed to give them beautiful moments prioritizing their safety and well-being, and they gave us a position among the top 10% of tour companies worldwide; a human cycle of genuine reciprocation.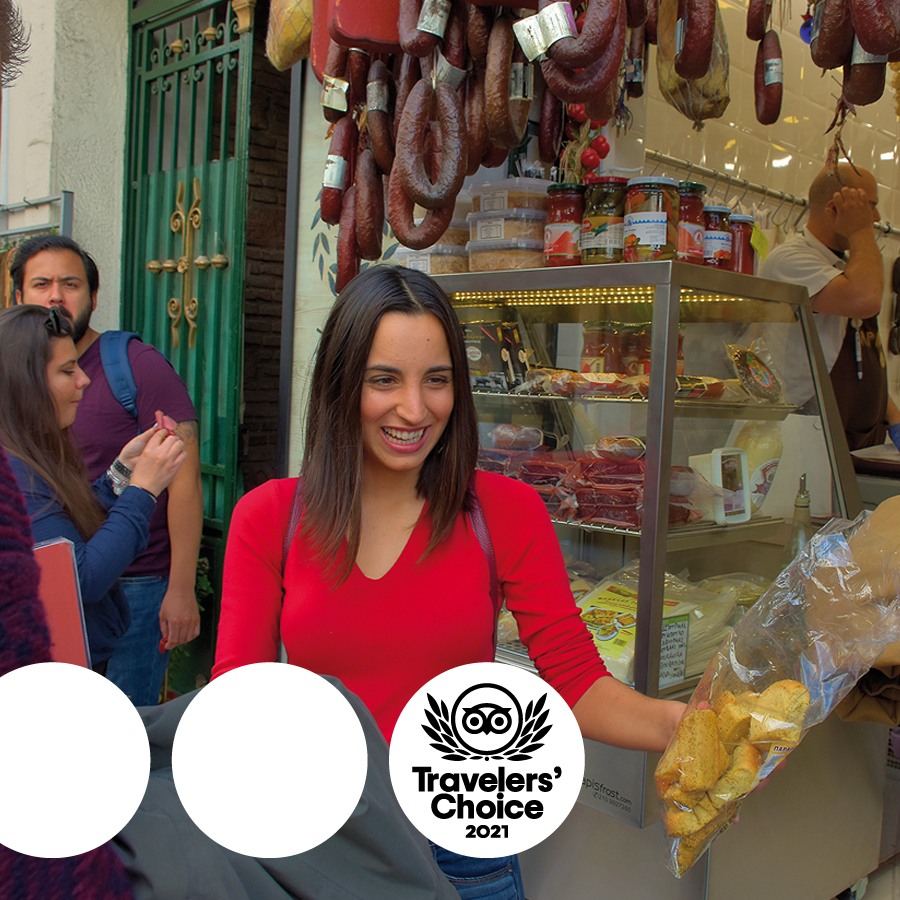 How can we not be grateful?
Our amazing tour guides and tour leaders who every single day make our city known to people from all corners of the world, our back office, and our operations department who make sure that everything runs smoothly and improvise on the spot in order to always be ahead of things, our marketing department and our creative team that design impeccable services and promote our good work with energy and resourcefulness, the accounting department that makes the company financially effective; this hardworking team of people renders us every day efficient, successful, and worthy of this award, even in times that taste our endurance.
How can we not be confident?
Athens Walking Tours succeeded not only to stand on its feet during a very challenging, constantly changing period for the tourism industry overall but it also managed to stand out by delivering for one more time outstanding services and experiences to guests from all over the globe. We planned our course of action carefully, we were proactive, we implemented Covid-19 safety measures and strictly followed health protocols through convenient and guest-oriented procedures, we designed new, groundbreaking services, and finally, we managed to keep our high quality of service, despite the doubtful, constantly changing circumstances. 
How can we not be hopeful?
With tourism booming again as last July and August indicated we cannot help but get fully ready for a sensational, expectations-exceeding 2022. Provided that things will go well, and caseloads will keep on decreasing, we are at a point in time where people are eager to get out there, explore new and exciting destinations, or revisit all-time favorites. Reliable surveys reveal that traveling is the most desired activity for 2022. If vaccination rates keep on rising, we may go from desire to reality very easily. Do we feel ready for what is coming? Yes, we do. We feel not only prepared but also empowered.  And this award has been fuel for our soul; Athens Walking Tours' soul.