So now you are back home but have a craving for a savory gyro pita sandwich, like the delicious one you had during your Athens Food Tour! We have the perfect solution for you that you can make at home and impress your friends with. Why not arrange a little Greek Theme party, complete with "Zorba" music and a "Pictures of Greece" slide show. OPA!
Here's a recipe that is easy to follow.
You will need:
1 onion, cut into chunks
1 pound ground lamb
1 pound lean ground beef
1 tablespoon minced garlic (mince a little extra and save it for the tzataiki)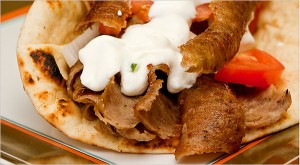 1 teaspoon dried oregano
2 teaspoons ground cumin of good quality
1 teaspoon dried marjoram
1 teaspoon ground dried rosemary
1 teaspoon ground dried thyme
11/2 teaspoon ground black pepper
1 teaspoon salt
Don't forget to pick up some Pita bread and Greek yogurt for tzatziki (add in a little spearmint and black pepper for amazing aroma!).
DIRECTIONS:
1.       Place the onion in a food processor, and process until finely chopped. After draining the liquid from the chopped onions, place them into a mixing bowl along with the lamb and beef. Season with the garlic, oregano, cumin, marjoram, rosemary, thyme, black pepper, and salt. Mix well with your hands until well combined. Cover, and refrigerate 1 to 2 hours to allow the flavors to blend.
2.       Preheat oven to 325 degrees F (165 degrees C).
3.       Place the meat mixture into a 7×4 inch loaf pan, making sure there are no air pockets. Line a roasting pan with a damp kitchen towel. Place the loaf pan on the towel, inside the roasting pan, and place into the preheated oven. Fill the roasting pan with boiling water to reach halfway up the sides of the loaf pan.
4.       Bake until the gyro meat is no longer pink in the center which is usually around 45 minutes to an hour depending on your oven. Pour off any accumulated fat, and allow to cool slightly before slicing thinly and serving.
Now serve the sliced gyro meat with warmed or grilled pita bread slices, home made tzatziki, onions, lettuce, tomatoes and, if you want to go all the way, freshly fried potatoes.
Kali Orexi!