One of the most interesting and still alive Greek traditions related to New Year's Day is the Vasilopita custom.
The word Vasilopita means St. Basil's bread or cake or pie. Saint Basil the Great was the archbishop of Caesarea of Cappadocia back in the 4th century.
During his service as an archbishop there was a time of terrible famine and poverty and the emperor decided to impose an excessive tax. People, being already impoverished, in order to avoid the fine offered all their valuable like coins and Jewelry.

St. Basil in order to make up the injustice called the emperor to repent the tax and the emperor did so. He canceled the tax and instructed his tax collectors to turn over to St. Basil all of the chests containing the coins and jewelry which had been paid as taxes by the people of Caesarea. The problem was that St. Basil did not know the rightful owner of each piece so he prayed for a long time and he decided to bake a huge pie and put all the coins and jewelry inside the pie. Then he called the people who had paid the taxes and offered to each one of them one piece. Miraculously each owner received in his piece of Vasilopita his own valuables. In remembrance of that miracle Orthodox Christians prepare the Vasilopita each year on January 1st.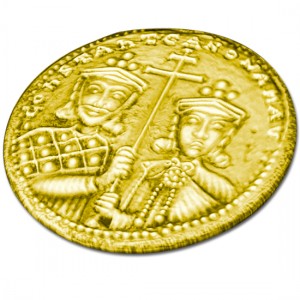 Nowadays a Vasilopita is baked at every Greek house and it is cut on December 31st after midnight or on January 1st. The older member of the family makes a cross on the pie for the blessing and then cuts a piece for every member of the family and any visitors present at home at the moment. There is always a coin in the pie and the lucky one who will get the piece with the coin it is said that he will have good fortune and health during the new year. The coin is usually accompanied by a present.
Many private or public institutions, such as societies, clubs, workplaces, companies, etc., cut their vasilopita at a convenient time between New Year's Day and the beginning of the Great Lent, in celebrations that range from impromptu potluck gatherings to formal receptions or balls.