If you find yourself in Athens, you cannot miss visiting its crown, Acropolis! The ''sacred rock'' of Acropolis offers a majestic view of the city while being surrounded by the classical elegance of the Parthenon and the Erectheion temples.
It remains open from 8:00 am to the sunset time which varies, of course, depending on the season. During summer you can surely visit it until 8:00 pm while in winter until 5:00 pm.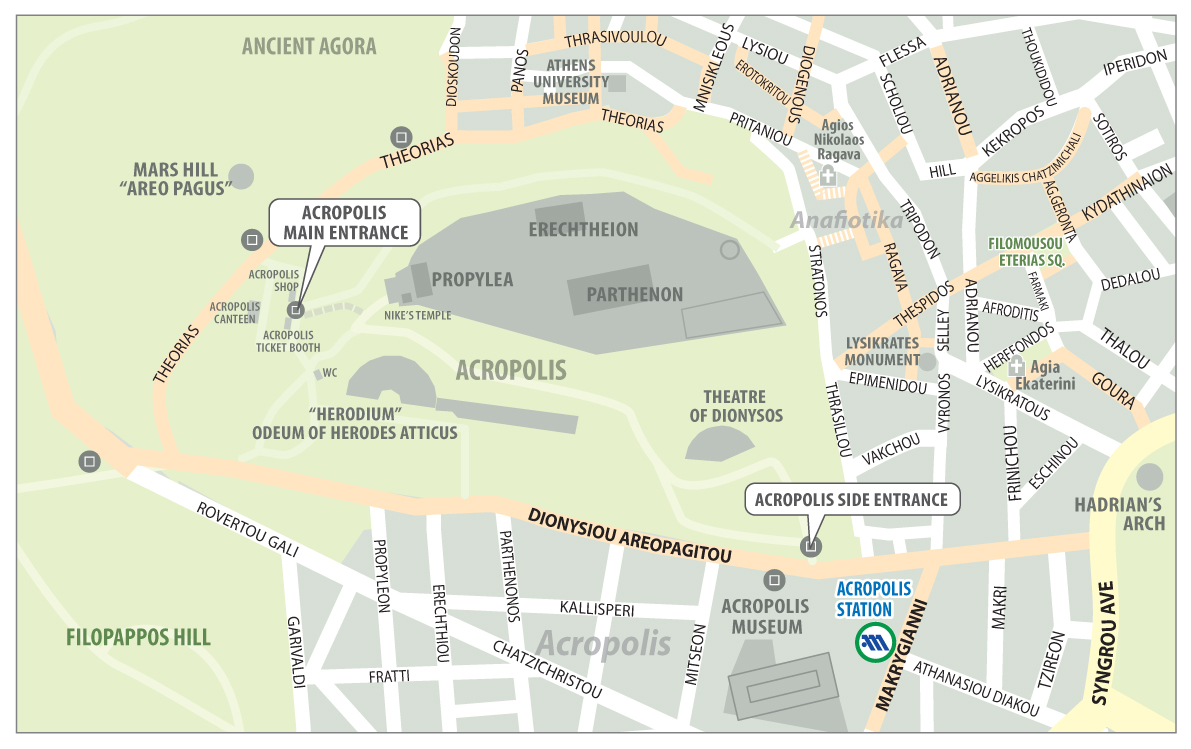 There are two entrances to the Acropolis: the main one which is in the west and the side entrance (known as Dionysus Theater entrance), which is located in the southeast.
If you use the main one, you should know that it is usually very crowded. You should be prepared to wait long in the line to enter the site.
We, at the Athens Walking Tours, use only the Dionysus Theater entrance for all the advantages it offers us:
• Using the Dionysus Theater entrance you have the opportunity to see much more than the visitor using the main entrance. You will see the Dionysus Theater –the oldest and most important theater in Europe, the Thrasylus sponsor's monument, the Eumenes Stoa, the Asclepius Sanctuary and many more sites and monuments.
• The Dionysus Theater entrance is never as busy and crowded as the main one.
We, at the Athens Walking Tours, do take care though and purchase the tickets in advance for all our guests so, no lining up at all!
• By the Dionysus Theater entrance, there are many stores where you may get a snack or a coffee or a drink.
• Restroom facilities and Tourism Info just next to the Dionysus Theater entrance.
Acropolis Entrance Fees
The admission  for the Acropolis is: 
20€ for the adults from April 01 to October 31
10€ for the adults from November 01 to March 31
Free for children up to 18 years old (with valid ID or passport) and students from EU countries (with valid student ID) all year-round
10€ for seniors (over 65 years old) from the EU (with ID or passport) all the year-round
10€ for children and youth up to 25 years old outside the EU (with valid ID or passport) all the year-round
Free for children and youth up to 25 years old (with valid ID or passport) from EU countries (with valid student ID) all year-round
Free for all children up to 5 years old
Entitled to free admission are: 
Tour Guides with professional license from the Hellenic Ministry of Development
Teachers or parents accompanying children on primary and secondary education school visits
Official guests of the Greek Public
Visitors with disabilities from EU and non-EU countries and people accompanying them
Archaeologists, with a current working identification card
Journalists with a current identification card
Entrance is free to the Acropolis to all visitors on the following days:
6 March (Memory of Melina Mercouri)
18 April (International Monument Day)
18 May (International Museum Day)
The last weekend of September (European Days of Cultural Heritage)
October 28th
Every first Sunday of the month, from November 1st to March 31st annually