CONTINUOUSLY AMAZING
It is no surprise that millions of reviewers from popular TripAdvisor platform, awarded the Acropolis Museum in Athens, Greece as one of the top 10 museums all over the globe in 2018, for a fourth consecutive year. It was founded 10 years ago and it still amazes its visitors with its endless variety of exhibitions and the unparalleled location, gaining spots each year in the hearts of visitors worldwide. 
Winners of TripAdvisor's Travellers' Choice awards are determined using an algorithm that takes into account the quantity and quality of reviews, as well as ratings for museums worldwide, gathered over a 12-month period.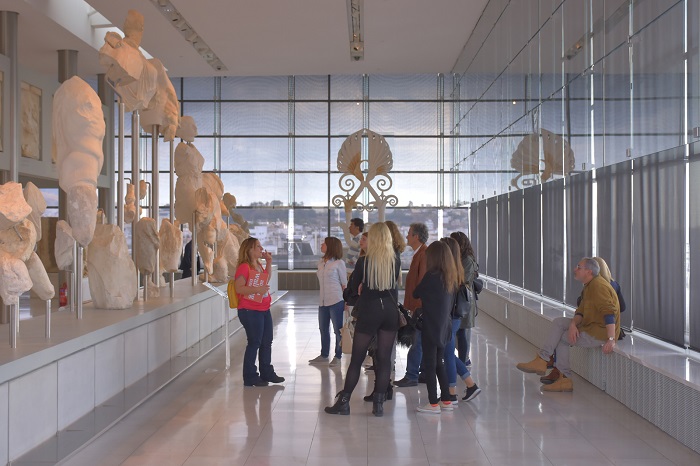 "
An experience everyone should enjoy at least once in his lifetime. A must see way back in time of our civilization.
-Elizabeth Watson"
"

TAKE ON THE SMART WAY 
Lots of people share the urge to visit a Museum so breathtaking that serves as a monument itself. Displaying antiquities right next to the actual site of Acropolis, bathed in natural light, is a luxury that you can't find anywhere else.
The smart way to visit is to book a tour with a licensed local tour guide who can give you the whole picture and experience the full magnitude of the Museum. Additionally, skip-the-line services offered when booking these tours, will give visitors a hassle-free experience to focus on the thing that matters the most: the content and significance of the Acropolis Museum.
Entrance fees to the Acropolis Museum is just 5€ for adults and reduced or free for students, the elderly and children. Opening hours are every day (even the weekends) up to 8pm and you can find more information in its official website. We strongly recommend you to treat yourselves with the complete tour, visiting the archaeological site of Acropolis as well, which is just next to the Museum.