A testament of almost 2500 years of Jewish presence in Greece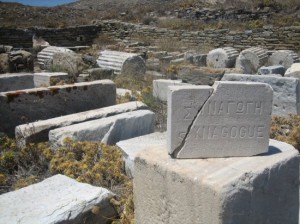 The first archaeological evidence of Jewish presence in Greece comes from a an inscription found in Athens dating back to 300-250 B.C.E. The oldest synagogue of the Diaspora was found on the island of Delos, and dates from the early 1st century B.C.E. When in Thessalonica, Apostle Paul found a well-organized Jewish Community, as in many other Greek cities, including Philippi, Veroia, Corinth and probably Athens. Between the 16th and 18th century, the Jewish community of Thessaloniki was one of the largest in the world. During World War II many Jews fought in the ranks of the Greek Armed Forces.
During the Occupation, most Jewish Communities were almost completely wiped out, as the majority of their members were murdered at the death camps. The losses reached a staggering 87 percent of the pre-war Jewish population, one of the highest in Europe. Today only about 5,000 Jews live in Greece, organized in 9 communities.
The Jewish Museum of Athens is housed in a beautiful neoclassical building covering an area of 800 square meters in the historical part of Athens known as the Plaka district.
It was founded in 1977 to collect, preserve research and exhibit the material evidence of 2300 years of Jewish life in Greece.
Its collection counts ten thousand individual artefacts and includes various and highly interesting items of both the religious and domestic life of the Greek Jews as well as their History.
The Museum houses its permanent exhibition with thematic exhibits as well as an art gallery, a periodic exhibition Hall, a research library, a space for educational programs, a photographic archive, a conservation laboratory and a gift shop.
The Athens Walking Tours offer a private tour which is focused on the history of the Jewish community of Athens and includes a guided tour of the Jewish Museum, a history walk through the Jewish neighbourhoods of Athens, a visit to the Holocaust monument and much more. Find more information or book your tour here.