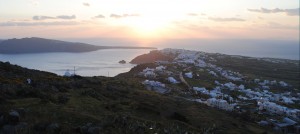 When you think of the words "Greek Islands" what do you see? White washed houses blending in against a cloudless cobalt blue sky and turquoise sea, shimmering olive groves, a blazing sun and ancient ruins. Of the many Greek islands that dot the Aegean, perhaps none is more famed for its beauty than Santorini.
About 3,500 thousand years ago a massive earthquake wiped out all life on the island. Three quarters of the land mass vanished into the Aegean. Many historians and philosophers, among them Plato, believed that Santorini was ancient Atlantis. Today the island is shaped in an arch around the submerged volcanic peaks and has a land mass of 30 square miles and a population of a little over 13,000 inhabitants.
Santorini is most famous for its spectacular sunset and adobe style houses and hotels clinging to the rocky cliffs surrounding the caldera. But in recent years islanders have worked hard to establish their homeland as a culinary and wine destination. Santorini has a very distinctive cuisine that has been known in Greece for decades but is now gaining international recognition. The lava rich soil and plentiful sun help to produce a unique breed of products that can be found nowhere else. Small, cherry like,  tomatoes bursting with flavor and color, delicate white eggplant and the distinctive Santorini fava bean can be found exclusively on the island. The island is best known for its indigenous white grape varieties Assyritko, Athiri and Aidani and red grape varieties of Mandalieria and Mavrotragano. Santorini also produces the sweet Vin Santo wine from sun dried raisins.
Without exaggeration there is no Greek island that better fits the picture of your Greek island dream vacation. Transportation to and from the island is easier, safer and faster than ever before with an international airport and  many sea vessels traveling to the island daily. Visitors will find a wide range of quality accommodation throughout the island and at various price ranges to fit any budget, breathtaking beaches and unique scenery as well as excellent dining, sites of archaeological and historical interest and a number of exciting tours and activities to participate in.
Contact Us if you are interested in travelling to Santorini.