Have you ever tasted the delicious, buttery Kourabiedes that melt in your mouth or Melomakarona, biscuits with honey syrup and walnuts? Both of them are very popular Greek Christmas sweets! If yes, you are lucky and we are sure that you are still craving them. If no, you just should!
There's also one more good thing, in fact the best of all. We will give the recipes so you can prepare them at home for your beloved ones. There is only one small problem… These recipes will put you in trouble because you will have to make them again and again and not only during Christmas holidays!

Kourabiedes
Ingredients
800 gr good quality, all purpose flour
500 gr fresh cow's or sheep's butter, best quality available
150-200 gr powdered sugar
1 teaspoon pure vanilla extract
150 gr peeled and roasted unsalted almonds
powdered sugar for sprinkling
How to do it:
Remove the butter from the refrigerator 2-3 hours before starting the procedure and leave at room temperature (23-26°C or 74-79°F) to soften.

Beat in the mixer the already soft butter for about 5-6 minutes on high speed until it will become white, then add the caster sugar and continue beating for another 5-7 minutes until the mixture will be  homogenized.

Continue by adding the vanilla extract and gradually the flour.

You should have a soft and greasy dough very pliable which does not stick on your hands.

Form dough balls at the size of walnuts (25 gr aprox.) and stick 2 whole almonds in each one of them (you could also crumble the almonds and mix them with the dough)

Place your Kourabiedes in series on a nonstick baking sheet or parchment paper.

Bake them in preheated oven at 180°C  (360°F) for 35-40 minutes depending on your oven and until they get a golden color.

While removing the pan from the oven will notice that Kourabiedes are somewhat soft. This is because of the butter but after 1-2 hour at room temperature they will have the texture that they should have.

Sprinkle them with powdered sugar until they will become snow white and enjoy them.
Melomakarona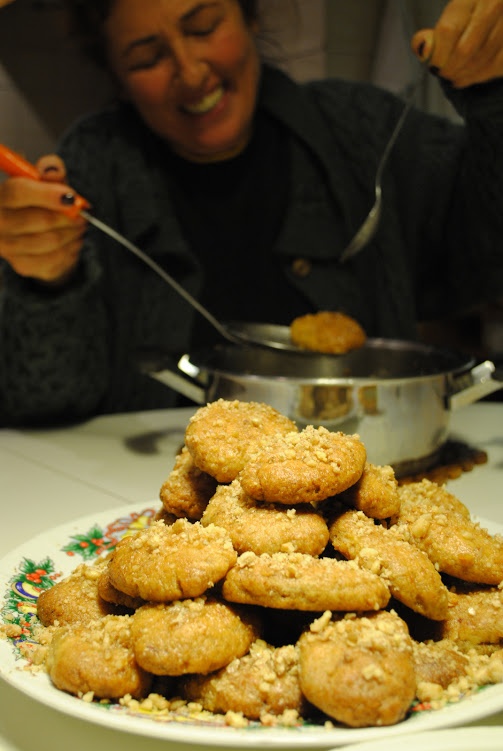 Ingredients
For the dough:
3 cups olive oil
½ cup orange juice
a pinch of salt
1 cup sugar
3 cups thin semolina
6 cups all-purpose flour
⅓ cup brandy
2 teaspoons baking powder
1 teaspoon baking soda
1 flat tbsp powdered cinnamon
⅓ tsp clove (powder)
Zest of 3 oranges
200g chopped walnuts (for garnish)
For the syrup:
2 cups sugar
1½ cup water
3 cups honey
How to do it:
Syrup
In a pot add all the ingredients for the syrup, except the honey and bring to the boil. Boil for 3-4 minutes, until the sugar has dissolved and set aside to cool down completely. When the syrup cools completely add the honey and stir.
Melomakarona biscuits
Beat in the mixer or by hand the sugar with the olive oil

then add all the liquids

Add all the rest of the ingredients except walnuts

It is high time to start shaping your Melomakarona. Pinch a portion of dough about the size of a walnut/ 50g (or bigger, if you prefer) and shape with your palms into a smooth oblong shape, like a small, flat egg

Bake at 180 °C (360°F) for about 20 minutes. The oven should be preheated.

When the melomakarona come out of the oven and while they are still hot, place them in the cold syrup, flipping them with a slotted spoon to absorb the syrup for approx. 20 seconds, depending on how syrupy you like them. (When syrupying the melomakarona it's best do so in 2-3 batches). Remove the cookies using a slotted spoon, place on a platter and sprinkle with chopped walnuts.