Too bored to watch another series on Netflix?  Tired to read memes on Facebook or influencers' videos on Instagram?  From learning how to dance (salsa, hip-hop, or flamenco) your way to Christmas to learning a new skill or updating your CV, there are so many fun and useful things you can take up. 
1. Let's make our Christmas shopping in advance 
2020 has been quite peculiar and demanding so far, but that doesn't mean that Christmas will not come this year. Why not begin writing down that Christmas list and get shopping done online for your loved ones? Share that celebrational fun earlier this year and make people around you (including yourself) happy.  
2. Let's make a traveling bucket list  
Be optimistic and look ahead to better days by making a traveling bucket list. Put your fingers on that online globe and plan your next adventure, perhaps off to sunny Greece, post-COVID-19. Check these tours and dream about your future Greek adventure. 
3. Let's plant a herb garden 
Is there anything better than have your own, organically grown, fresh herbs available 24/7 for your cooking? With so many gardening instructions and kits available online, why not start planting a herb garden at home?
4. Let's learn how to cook 
How about improving upon those cooking skills? With an array of online recipes and courses at your disposal, you can start with the basics and work your way up to more elevated fine-dining dishes. Mediterranean cuisine is one of the most nutritious and tasty ones worldwide, so
let's get started on those delicious Greek pies and salads
.
5. Let's get fit(ter)
Do gyms look daunting? Working out at home can be just as beneficial for both your mind and body and during a lockdown keeping your mind healthy is very important according to mental health experts. There is a wealth of different workout programs, so browse through the best one for you
6. Let's update our professional profile 
When you are really busy, the idea of updating that old CV, or LinkedIn profile might not have been on your priority list at all. Isn't it a brilliant time to give all of your professional accounts a facelift? You can effectively use this period to work towards a better and brighter future.  
7. Let's visit a museum, a gallery, or a historical site online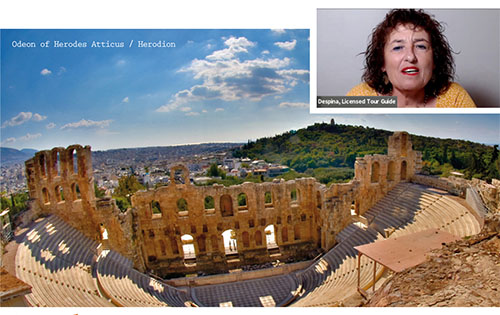 From the Guggenheim to the Louvre, there are so many important museums, galleries, and famous historical sites on virtual tours from the comfort of your home. Have you visited the Athenian Acropolis? Lucky you, now you can do it. Check our
virtual tours
and become an expert on the ancient Greeks: