10.  Watch a movie at an open-air cinema
Summer in Athens means movie nights under the starlit sky, fresh popcorn, or even better, hot dogs and ice-cold beers.
Most open-air movie theatres accommodate small round tables every two seats and people can enjoy their beverage and snack even more comfortably.
This year, due to COVID-19 restrictions, open-air cinemas will operate at a 75% capacity without breaks.
There are more than 40 open-air cinemas in the city, with Cine Thisio (7, Apostolou Pavlou Str., Athens) perhaps being the most well-known and pretty one, since just above the movie screen one can see the lit Acropolis.
Tip:
Take with you a mosquito repellent, cream, or spray, and you can thank me afterward.
9.  Attend a concert at the Lycabettus Theatre or the Herodion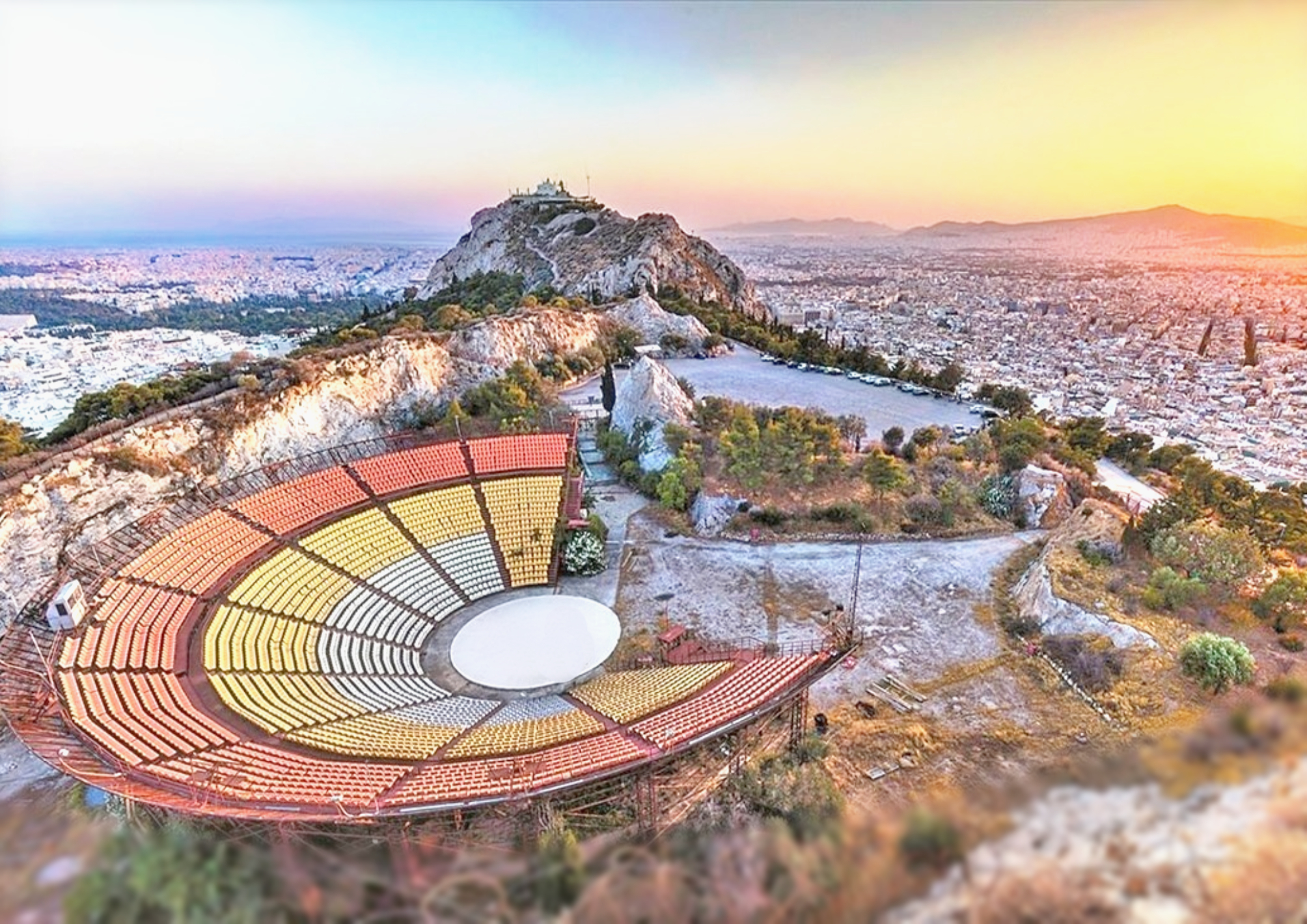 Summer in the city also means outdoor concerts.
Therefore try to attend a concert either at the Lycabettus Theatre or at the Herodion (Odeon of Herodes Atticus).
The Lycabettus Theatre is on the Hill of Lycabettus, it was built originally in 1964 and seats 3,000 people.  Lycabettus Hill is perhaps the most well-known hill of Athens after the Acropolis and it is visible from everywhere.
You can reach the open-air theatre by car, on foot or by funicular.
If you are lucky enough to attend a concert on the Lycabettus, do not miss the delicious hotdogs of the food booth outside the theatre entrance, and take a minute or two to enjoy the city lying beautifully lit beneath your feet.
The ancient Roman
Odeon of Herodes Atticus
originally built in 174AD and fully reconstructed in 1955 is a stunning gem sitting on the southwest slope of the Acropolis Hill.
It is one of the prime locations for the
Athens Festival
, happening every year from May until September, and has hosted many notorious artists, such as Maria Callas, Luciano Pavarotti, Frank Sinatra, Florence and the Machine, Jethro Tull, just to name a few. On its fine marble seats underneath that charming array of roman arches, more than 4,000 people can be accommodated.
Tip: Book as early as possible and do not expect to find a last-minute ticket, especially this year that venues will operate with a 50% capacity. The marble seats at the Herodion can get uncomfortable after a two-hour show, so take a small cushion in the backpack.
8.  Visit the Central Market and eat like a local
Shopping for groceries at the Central Market of Athens can be quite an experience.
Although there are weekly open-air markets in every Athenian neighborhood (and all over Greece), the
Central Market
of the city, located on Aiolou Street, near Monastiraki square, is let us say a shopping must.
The Market is huge, housed in a very tall, impressive building.
Dozens of producers sell their goods and advertise them, with loud voices, making jokes, teasing the shoppers. They usually offer small bites for free in order to lure you even more.
It is a journey full of colors, smells, and sounds. After shopping like a local, you can also eat like one.
The neighborhood is brimming with small eateries. You should definitely grab a souvlaki (Greek street food with small cubes of pork or chicken grilled on a skewer) or perhaps a box of loukoumades
(round bites of dough, fried until crispy outside, and then soaked in honey). Nowadays you can also find vegan versions (i.e. souvlaki with mushrooms), but it is not the real thing.
Tip:
The Central Market operates between 7 am to 6 pm, so try it in the morning, for better quality and quantity.
7.  Start a conversation with a local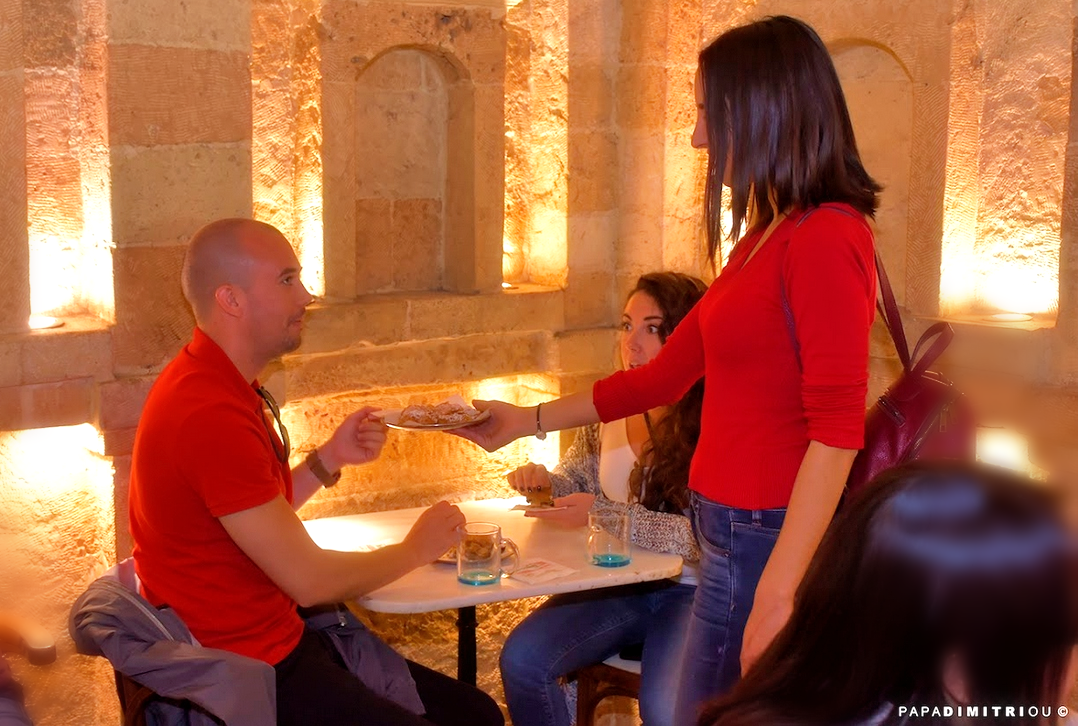 Greeks are hospitable people, even though they have been through a lot in the last ten years.
It will be good for you to chat with a local from Athens.
It may be the waiter at the café or the restaurant, the owner of a shop, the local baker in the corner, or just your tour guide.
Most Greeks, especially young ones speak English fluently, or even French, German or Spanish and will be happy to practice a foreign language.
It will definitely be interesting culturewise, and it will give you the chance to really feel the city's true pulse.
Tip: Try to avoid conversations on politics or religion; especially older people still remain somewhat sensitive on these matters.
6.  Have a cocktail at one of Athens' terrace bars (with an Acropolis view)
Athens is known for its spectacular terrace bars, where someone can enjoy a perfect Mai Tai or a Mohito eye-feasting on the beautifully lit Acropolis. A for Athens, Galaxy, Couleur Locale, Air lounge, Bios, and many more, offer terrific cocktails combined with lounge, chill-out music, and a night view of the Acropolis sparkling in your glass. Be wise not to miss this experience, because it equals the words "amazing summer night" in the dictionary.
Tip: On a Friday or Saturday night it would be better to reserve a table.
5.  Watch the changing of the guard
In front of the Greek Parliament at Syntagma Square, there is a monument dedicated to all Greek soldiers that gave their lives for their country. It is called Memorial of the Unknown Soldier, sculpted in the early '30s, and it is guarded by two guards, members of an elite unit of the army called 'Evzones'.
They wear a traditional costume called 'fustanella' and have to stand perfectly still (and mute) during their shift.
Every hour they are replaced by their colleagues in a ceremonial way (with specific movements that look like a ritual), and this is the famous
changing of the guard
.
If you watch closely behind the Evzones there are steps that have inscriptions. They record famous battles of the Ottoman Revolution, the Balkan Wars, the First and Second World Wars, where Greek soldiers bravely fell during battle.
Tip: Every Sunday usually at 11 am there is the full change of the guards, where all the Evzones parade in front of the memorial.
4.  Stroll around Plaka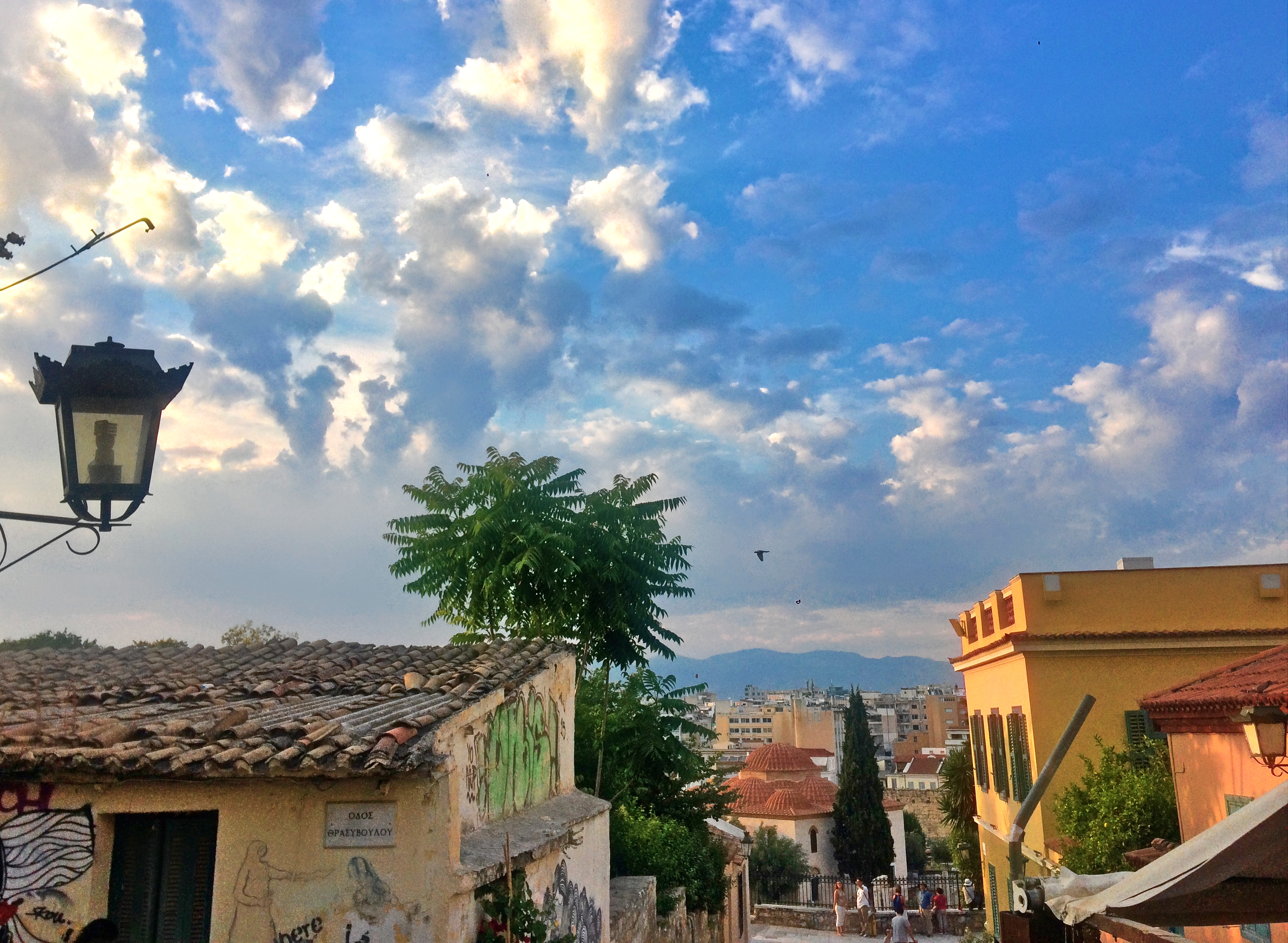 Let's get something straight: Plaka, for the vast majority of travelers, is the most beautiful neighborhood of Athens. It is also the oldest since it grew up alongside the Acropolis hill.
It is located just underneath the Acropolis, and it is full of majestic neoclassical buildings, small churches, taverns, pretty cafes, museums, galleries, lots and lots of flowers, and of course breathtaking views. With winding streets, white steps, slopes, old ottoman dwellings, 15th-century mosques, the Roman Agora with the Tower of the Winds, the world's oldest meteorological station, we could say that Plaka is a huge amalgamation of photographs. Everywhere you look there is a perfect shot waiting.
It also has Adrianou Street, a very busy street with many souvenir shops and restaurants.
Most streets in Plaka are car-free so it is perfect for long walks, full of adventure.
Within Plaka, there is a small uphill area called
Anafiotika
, with tiny houses, named after Anafi island residents, who came to Athens as construction workers for the King's palace at the beginning of the 19
th
century. As you may have realized, Plaka has an island atmosphere,
if you have visited the Cyclades, you will know what I mean.
Tip: Wear sneakers, flat sandals, or even platforms if you're brave enough; the cobbled paths and the narrow steps do not appreciate pointed heals or any shoe with which it is easy to slip or trip.
3.  Visit the National Archaeological Museum
It is the largest museum in Greece, with a surface of 8,000 square meters and home to more than 11,000 significant findings from various locations all over the country and from different historical periods (prehistory to late antiquity).
  It was established in 1829 and opened to the public in 1889.
You will see treasures such as the funeral mask of Agamemnon, the impressive Artemision bronze sculpture,
a collection of beautiful frescoes from the island of Santorini, the mysterious Antikythera mechanism, the delicate Cycladic collection of marble figurines, and many more worthwhile exhibits, one must see at least once in a lifetime.
The
museum
is housed in a fabulous neoclassical building of the 19
th
century.
2.  Bargain at the Monastiraki flea market
From Monastiraki square, a historical square of Athens, where present and past intertwine, starts the famous flea market of
Monastiraki
.
It is full of little shops with souvenirs, replicas of artifacts, fake jewelry, rare vinyl records and books, t-shirts, or your average ancient Greek costume (who doesn't want to dress like an ancient Greek, right?) There are also sellers of used musical instruments (you may even discover a guitar signed by a famous rock guitarist).
Something you should remember is that sellers of this great bazaar area are used to bargain.
Therefore, do not always accept the first price you are told, but try to reduce it.
Bargaining needs good negotiation skills and practice. It is like a game, it is fun, and sometimes it is the customer who wins.
Tip: Watch your pockets, bags, and wallets carefully; there may be pickpockets around, and believe me, they are masters of their art.
1.  Tour the Acropolis and the Museum
Ok, so you are in Athens, the oldest European capital with a history of 2,500 years.
Aren't you going to visit ancient marvels such as the temples of the Acropolis hill (the Parthenon, the Erechthion, the Athena Nike), and admire more than 2000 years old archaeological findings and beautiful, lifelike statues? Of course, you must and you shall.
Book an early morning tour of the
Acropolis
or a late afternoon one to avoid the heat, and do not miss out on the new
Acropolis Museum
, open to the public since 2009 and voted as one of the best in the world.
As it is built over a huge archaeological site, its floors are often transparent with glass and the visitor can actually see the excavations below.
The Museum's café on the top floor has a marvelous Acropolis view.
Tip:
Prebook your tickets to avoid long queues.
By Sophia Dritsa